About Us
Results you can measure
Stubbe & Associates was co-founded by Jim and Nicky Stubbe to help clients in Minnetonka, Minnesota get the best case management solutions possible. Starting off with two employees in 1986, Stubbe & Associates is focused on medical and vocational case management coverage throughout the US today, and has expanded significantly over the years.
Stubbe & Associates is dedicated to providing the highest quality of service in a cost-effective manner.
We are committed to honesty, integrity, professionalism and exceeding our customers' expectations. Based on our industry know-how and proven best practices, we give you the support you need to achieve your goals.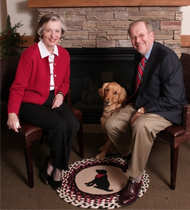 Our business philosophy is simple - establish a culture built on integrity, honesty and professionalism; hire the most experienced and respected people in the field; treat them well and provide them with all the tools and support necessary for them to do the most effective job for our clients.
We believe in providing our staff a loving environment where they can work and play. The company's corporate vacation home on Lake Superior provides the perfect location to relax and have some fun, while our rambunctious Golden Retriever keeps things lively back at the office.
For effective case management services that go beyond expectations,